Europe Teen Challenge
TC in Europe has a long history. Since its beginning in 1969 until now, the vast majority of TC programs in Europe were started through street outreaches we have called "coffee houses." The residential rehabilitation centers, for the most part, grew out of these early evangelistic efforts. The Europe TC headquarters - first called by the name "Continental TC"- was a training and coordinating hub helping launch national TC programs in many countries.  
Today there are over 100 ministries in 34 different countries. There are also over 75 coffee house ministries reaching out to the hurting. 
Europe Teen Challenge - Alive and Well

Tom Bremer
by Tom Bremer, Global TC Regional Representative in Europe
 "I'm ruined! The Kingdom of God is in me! I will never be the same!"  So were the words of a student in one of the Teen Challenge programs in Europe as he came to the realization that the "old man" was passing away, and something new and miraculous was happening in his life. It is words like this that express the heart and soul of the TC work both here in Europe, and everywhere the Holy Spirit is at work changing lives with what I like to call : "The Divine infection."
A Fellowship of the Spirit 
Europe TC is a fellowship of the Spirit. It is not a corporation with a board of directors only, but more important, it is a group of national programs and leaders which/who have voluntarily decided to enter relationship with one another for the express purpose of "stimulating one another to love and good deeds", and "bearing one another's burdens".  After 43 years, this fellowship is not only alive and well, but it continues to grow. It is the culture of Teen Challenge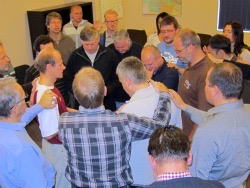 Prayer in Bucharest in Europe.
Expansion through Adoption
As evidence of this culture many of the National TC works have helped establish TC's in other countries. In the 1980's, TC in the Netherlands helped put TC Poland on the map. In turn TC Poland helped TC in Belarus at its very beginning. Now TC in Belarus is helping to train others in the Russian-speaking countries. A few years ago, TC in Latvia was in the process of building a new rehabilitation facility. All of the programs in Europe contributed to an offering for new windows in the Latvian center. Some TC's in Europe have had great influence beyond their own borders. Most notable are TC Portugal - helping establish TC Macau, Guinea, and Angola, and TC in the UK helping in India and Swaziland. TC Czech is involved in Slovakia, Moldova, and Israel. Just one month ago, TC Czech organized the construction of a security fence around the new women's center in Arad, Israel. Teams from Czech and North East Scotland TC's came to do the work. The list goes on and on. I believe that God is well pleased with this fellowship!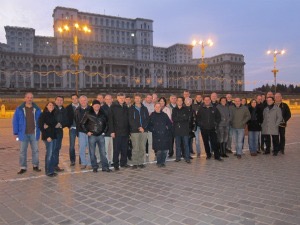 TC Leaders in Bucharest
Current Economic Crisis
Many of our TC programs in Europe are experiencing the pinch of the economic crisis. In some countries where we received government funding we have lost it. Though it would seem natural to panic in such situations, we see the hand of God in all of it. On one side, it is more difficult to run the TC programs, but on the other side, the lack of funds finds its way to addicts on the street. We are beginning to see more desperation and a greater motivation to change among the drug users. This is the environment for a miracle! 
2012 ETC Conference Rimini, Italy
Each year we have two gatherings of leaders and workers in Europe. In April of 2011 we held our annual conference in Gdansk, Poland. The conference theme was "Life, Family, Ministry". The annual Fall 2011 Leaders Meeting was hosted by TC Romania in Bucharest. This was a family time where we shared our victories and challenges with one another and had many times of prayer together - A real fellowship of the Spirit.   
Our annual Europe Teen Challenge Conference will be held in Rimini, Italy April 19 -22, 2012. The theme is: God's Word: Alive, Active, Sharp! (You are all welcome to join us. See registration link in Conference section.) Our Fall Leader's Meeting 2012 will be hosted by Teen Challenge Slovakia in November.
New Projects in Europe  
At this writing, we are working on a number of projects. TC Kazakhstan has sent a couple to Bulgaria to start a TC work there. The TC women's center in Israel is in its infancy. We are attempting to connect with a Christian rehabilitation work in Greece. Several staff training seminars are scheduled around Europe. In addition to these, Europe TC is playing a major role in establishing a fellowship of Christian works across Europe. This is being done with The International  Substance Abuse and Addictions Coalition (ISAAC) out of the UK. This year in May we will take part in the first ISAAC Europe Conference.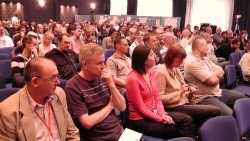 2011 Europe TC Conference, Gdansk, Poland 
We are mindful that a lot of activity is not the key to successful TC ministry. So, all of the events we sponsor and participate in are purposeful: to maintain and promote the fellowship of the Spirit so that we can "ruin" more lives with the Divine Infection!
May God richly bless all of you in your works around the Globe for Teen Challenge. 
For Europe Teen Challenge
Tom Bremer